Is CBD really a miracle cure for some ailments? Can it help your pets? Why has it exploded onto the retail market with such fervor?
What is CBD, exactly? We bet you're wondering if CBD is worth all the hype.
So, we've done some extensive research to learn the truth about taking CBD and compiled it into this convenient guide.
Your time is valuable! Click to jump to specific sections of this guide:
What is CBD?
Cannabis has a long, rocky history with humans. It has spent time hailed as a medical hero, as well as demonized as a life-threatening intoxicant. The truth lies somewhere in between.
Cannabidiol, commonly known as CBD, "is a naturally occurring compound found in the resinous flower of cannabis," says Project CBD.
In a conscientious effort to avoid confusing medical language as much as possible, we'll explain how it works.
The endocannabinoid system regulates major physical and cognitive processes in the human body. In the mid-1990s, researchers learned that receptors in the endocannabinoid system react to cannabinoids introduced to the body.
That contrasted with the previous belief that the reaction stems only from cannabinoids made by the body. Game changer!
CBD is a cannabinoid. Therefore, it can have a significant, positive impact on pain reduction, inflammation, and overall well-being when you ingest it.
The simple explanation of CBD can become confusing for those of us who aren't medical professionals. Consequently, you may feel overwhelmed if you're thinking about taking CBD for the first time and don't know where to start. This guide is for you. We've developed it for the CBD beginner who's looking for guidance.
Use this guide to gain a basic understanding of CBD, as well as what kind is right for you.
How Can CBD Help You?
Because the endocannabinoid system has far-reaching operations in the body, CBD is thought to also have far-reaching impact.
Research has been renewed with the passage of the 2018 Farm Bill. There's still much more to discover about the benefits of taking CBD. But here are a few things that early research is already pointing out.
Pain Relief
The Journal of Pain Research published a study in April 2018 that measured how well CBD works for pain. All in all, they noted positive results. "There is evidence that cannabinoids are safe and modestly effective in neuropathic pain and also for relieving pain in patients with malignant diseases."
In other words, CBD reduced nerve pain and cancer pain.
Mental Health
A study published in Neuropsychopharmacology highlights the positive impact of CBD on anxiety. Other studies show a similar impact on insomnia, PTSD, schizophrenia, and depression.
Acne
According to Healthline, recent scientific studies indicate that "CBD oil may help treat acne due to its anti-inflammatory properties and ability to reduce sebum production."
Teenagers everywhere, rejoice!
Heart and Circulatory System
The Journal of Clinical Investigation published a study in June 2017 regarding heart health and CBD. The results showed that "CBD reduced resting systolic [blood pressure] and stroke volume, with increased heart rate and maintained cardiac output."
Neurological Conditions
Researchers across the globe have conducted several studies regarding CBD and neurological disorders. These studies have shown promise in the treatment of epilepsy, multiple sclerosis, Dravet syndrome, Parkinson's disease, and Alzheimer's disease.
Researchers continue to study a variety of ways that taking CBD can benefit you. Keep an eye out for updates on findings related to substance abuse treatment, tumors, diabetes, and more.
Go back to the top.
The Best Part About CBD?
The two best-known cannabis plants are the marijuana and hemp plants. The psycho-active compound in these plants is called tetrahydrocannabinol (THC). THC comes from the flower of the plant and can get you high. In contrast, CBD comes from the whole plant and doesn't get you high.
Some people confuse CBD with hemp oil. Hemp oil is made from the stalks and seeds of the cannabis plant and is low in CBD.
The hemp plant itself is CBD-dominant. It's commonly used to make paper, rope, and other fibers. That's not to say there's no THC in hemp; there is. But it's only present in trace amounts. In fact, harvested hemp for CBD can have no more than .3 percent THC by law.
Therefore, people can take advantage of the medical benefits of cannabis without feeling intoxicated.
Dr. Tod Mikuriya was a psychiatrist and outspoken advocate for the medical properties of cannabis throughout his professional life. "We should be thinking of cannabis as a medicine first," he said, "that happens to have some psychoactive properties, as many medicines do, rather than as an intoxicant that happens to have a few therapeutic properties on the side."
Different Types of CBD
CBD and THC are the most popular compounds of cannabis plants, but there are almost five hundred others. Each one offers its own collection of health benefits. We call the complete group the "cannabinoid spectrum." Let's discuss the different types of CBD.
But first, a word about the CBD extraction process.
The extraction process is an important part of using CBD. It has a significant impact on the quality of the resulting oil. We turned to MarijuanaBreak for more details.
CBD oil and other products are the result of one of four extraction processes.
CO2 – "CO2 extraction is safe when done by professionals," says MarijuanaBreak. "It's used in countless food products and is perfectly safe for consumption." It's also free of contaminants. Although it's expensive and intricate.
Olive Oil – This process is safer, easier and less expensive than CO2 extraction. However, it produces a more perishable product at lower yields.
Dry Ice – This extraction method is easy, as well as simple. Although the yield is decent, it's easy to produce a low-quality result.
Solvent – MarijuanaBreak indicates that this straightforward process is only appropriate for some products. Comparatively, it's very dangerous and may even produce an oil with harmful contaminants.
Each of the following types of CBD have a different combination of cannabinoids.
Full Spectrum
Just as the name hints, full spectrum CBD offers the benefits of the whole cannabinoid spectrum. Think of this type of CBD as a team of cannabinoids that attack a variety of ailments. But that's not all. Evidence seems to indicate that this cannabinoids team also balances out physical and psychological well-being.
"The full spectrum of cannabinoids, terpenes, and essential oils work together to magnify the therapeutic benefits of each cannabinoid," says MarijuanaBreak. In fact, researches conducted a study in Jerusalem in 2015 that resulted in the same finding.  "[Full spectrum CBD] was more efficient for alleviating the pain than [isolated] CBD," researchers said.
Broad Spectrum
Broad spectrum CBD has all the benefits of full spectrum CBD with one exception. Producers remove the THC from these products. While you still have the cannabinoids team at your service, THC isn't part of the team in broad spectrum CBD.
This type of CBD is ideal for someone who needs the benefits of full spectrum CBD but without THC. For example, people with public safety jobs may anticipate regular drug tests for work. Although an individual may take CBD for chronic nerve pain, a test result showing THC could cost his or her job.
Broad spectrum CBD is the best of both worlds.
Isolate
Again, as the name suggests, isolate CBD is isolated CBD. That means, there is no team of cannabinoids. The only cannabinoid contained in CBD isolate is the CBD itself. There's zero THC in this type of CBD.
CBD isolate initially goes through one of the extraction processes above. After the first extraction process, CBD contains the cannabinoid spectrum. To "purify" or separate the CBD from everything else, it goes through another extraction process.
People often prefer isolate because it provides a more accurate dose of CBD. It also has a less potent taste than full or broad-spectrum CBD.
Nano-CBD
Nano-CBD uses the magic of nanotechnology to make CBD even more effective. To begin with, let's define nanotechnology. It basically means tiny science. For example, scientists can use nanotechnology to break particles down into tiny pieces.
When we apply nanotechnology to CBD, it means that the CBD is broken down into tiny particles. The benefits of using CBD in this state of tiny particles include better and easier absorption by the body. The difference the user is likely to notice is two-fold. CBD's impact on the human body is more effective and it lasts longer.
Go back to the top.
What Kind of CBD has Traces of THC in it?
Full Spectrum
Broad Spectrum
Some nano-CBDs
If you want little to no risk of coming up positive for THC on a drug test, you NEED to choose the following types of CBD:
As mentioned above, isolate CBD is only CBD. There are no traces of THC or any other cannabinoid contained in it.
Some nano-CBD products have no THC in them. Whether it does or doesn't depends wholly on the extraction process. Full spectrum and broad-spectrum CBD can also be broken down with nanotechnology. Carefully read the label on the product's packaging or go to the manufacturer's website for verification.
Although CBG oil is still relatively rare, it's becoming increasingly popular. CBG doesn't get you high. Therefore, CBG isolate has no THC; it's only CBG.
Go back to the top.
Choosing How to take CBD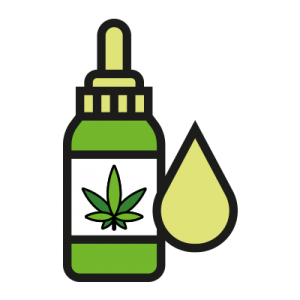 Tinctures (Oils)
The most effective and likewise the most popular way to consume CBD is to put a few drops under your tongue. Hold it there for 30 to 60 seconds and then swallow whatever isn't absorbed. Nature World News, a publication dedicated to bringing the latest scientific news to people all over the globe, agrees.
"This method has been proven to be discreet and very effective in calming some chronic pains almost immediately," they say. "This is one of the most effective methods of taking CBD oil." It takes effect faster, too, which is equally important.
After all, the first question we ask after we know it works is how long it'll take to feel better, right? Tinctures start working fastest when they're put under the tongue. "You can expect effects to take place within 20 to 40 minutes," says Veritas Health.
Healthline shares another benefit of CBD tinctures and oils saying, "Many edibles contain sugar and preservatives, so if you want to avoid additives, you might want to try a sublingual product."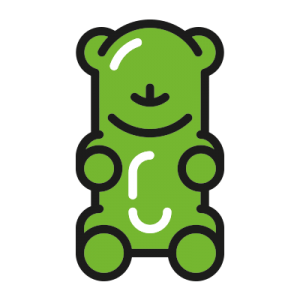 Gummies and Other Edibles
While multiple studies are finding promising results for CBD oil as medicine, no taste studies have been done. It seems like the taste is CBD's dirty little secret. Although it may be dirty – because it's part of a plant – it's definitely not a secret.
CBD has an "earthy" taste, if you will. Some taste buds may hardly notice it. But others often take offense to the outdoorsy flavor. If your taste buds are in the latter group, gummies and other edibles can come to your rescue.
Improved taste isn't the only benefit of CBD edibles. When CBD is combined with foods, it gets swallowed and processed by the liver. Then it flows through the bloodstream. It can take up to two hours to feel the effects. But the exchange is the longer-lasting duration of its effects. That's because it's released slowly as food is digested.
A Word of Caution: It's easy to take too much at first. That's commonly because it's hard to wait up to two hours for the relief of pain and discomfort. Be patient when you're learning about your body's response to CBD.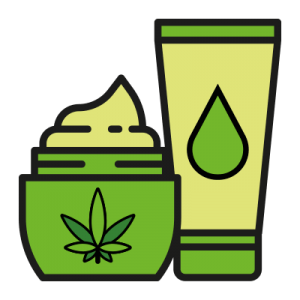 Lotions and Balms
Theoretically, you can rub CBD oil all over your skin to experience its medicinal effects. After all, there are endocannabinoid receptors right under your skin. Instead of doing that, though, we suggest you start by exploring other, more comfortable options first. Common skin applications include lotions, balms, creams, salves and skin patches.
The difference between taking CBD orally and applying it directly to the skin is the ability to target a specific area. This is especially helpful for rapid relief of specific bones, joints or skin conditions, such as eczema.
Veritas Health notes, "Topical CBD products may take up to an hour to take effect and can last up to five hours." Researchers conducted a study in 2015 using CBD on rats with joint swelling. The results were quite encouraging for people with similar conditions.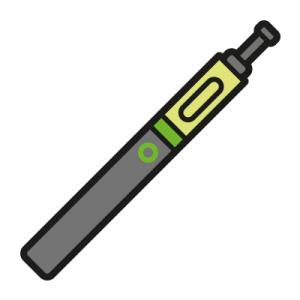 CBD Vape
Another fast way to deliver CBD to your endocannabinoid system is by vaping it. Nature World News says that vaping is "the most effective and fastest method because the CBD goes into the bloodstream through your lungs."
There are a variety of vaping methods to choose from. You can smoke it, as well. Although, smoking CBD exposes you to carcinogens. According to Healthline, "While vaping circumvents this by heating cannabis up to just below the point of combustion, the jury's still out on how safe it is, so it may not be the best choice."
One point often overlooked about vaping CBD oil is the cannabinoid retention. In other words, how much of the CBD is absorbed into your system when you vape it. Emily Kyle, of Emily Kyle Nutrition says that vaping allows more retention than smoking. In fact, she says that vaping retains up to 90 percent of those precious cannabinoids.
Bath Products
CBD is infused into foods, oils and lotions, but that's certainly not all. It's available in an abundant variety of bath products, too. CBD shampoos, conditioners, lip balms, facial care products, bath bombs, salt scrubs, nail care products, soaps, sunscreens, cosmetics, and more are becoming increasingly available.
Studies are extremely limited on these methods of using CBD oil. Most of them seem to disregard the question of appropriate dosage, as well. That's not to say that these products have no benefits derived from CBD. In fact, a warm bath enhanced by a CBD bath bomb is sure to do wonders for tired muscles.
Our advice for these products is to pay special attention to the information printed on labels. For specific results, we recommend that you use a product with more precise dosage measurements. For example, if you want to try taking CBD oil for joint pain, rubbing a CBD lotion on the joint may have a better effect.
Go back to the top.

Taking CBD for the First Time
With limited studies and a multitude of health claims, taking CBD for the first time seems like a confusing venture. But you can try CBD and minimize risks by adhering to our guidelines for beginners.
First, pick a trustworthy brand.
As a newbie in the world of CBD, this might be easier said than done. Here are a couple of tips for choosing a trustworthy brand:
Choose products made from hemp grown in the United States, especially Colorado, according to Consumer Reports. As we discussed above, some companies import hemp from overseas. This is a drawback for Americans because most countries overseas don't have to do any testing by law. That's not to say that none of them are tested. Each company is different. If the location isn't on label, go the extra mile to learn more. Look at their website or contact the manufacturer to find out.
Review the product's testing results on their certificate of analysis (COA). This verifies that the levels of CBD and THC printed on the label matches the contents of the bottle. Lab results on CBD oil are commonly available on a company's website. If they don't give you this information, opt for a different manufacturer. Consumer Reports recommends using products that are tested by facilities that meet the "ISO 17025" standards, as well.
Because this CBD guide is fast becoming your best friend, we thought we'd recommend some of our favorite CBD product manufacturers.
Green Roads

Green Roads, crowned the Best CBD Products of 2018 by Cannabis Business Awards, sources their CBD from American growers. Every batch of product is tested "for purity and potency by a third-party lab." The product you bring home contains your batch number. You can use this batch number to look at the test results for your specific product. They have a variety of CBD oil and other products for a diverse range of needs. What's more, they offer a discount to military members and first responders!
43 CBD Solutions

We love that 43 CBD Solutions' farms are "nestled in the heart of the Rocky Mountains on the Western Slope of Colorado." Consumer Reports notes that "the state's agricultural program performs spot-tests of hemp plants while they are still in the field." They make their lab results easily accessible on their website, so you can confirm that you're getting a quality product. 43 CBD Solutions also offers "Starter Bundles" for people new to CBD oil.
Mission Farms CBD

Mission Farms may be new to the CBD game, but they aren't playing around. They plant and grow their own hemp for their CBD products, then have it tested by a third-party laboratory. Mission Farms has a pretty cool Refer-a-Friend program, too. Give your friends a coupon for $25 off their order. Once they use it, Mission Farms credits your account for $25 to use on your next order. Not too shabby.
Medterra

Grown in Kentucky and third-party tested, Medterra sells a variety of CBD products, including oils, gel capsules, a cooling cream and pet products. All their products are THC free CBD and they have a 30-day refund policy. We especially love Medterra's Rewards Program, which allows you to exchange points for discounts on your orders. In fact, you get your first $10 discount just for signing up for the program.
Some CBD distributors may also have CBD samples for you to try. Inquire about them and take advantage of whatever samples are available. It's a great way to get to know the product and company you're buying from.
Second, start at a lower dose of CBD and give it time to work.
The good news is CBD is non-toxic and has little to no side effects. In other words, don't be afraid to try it. On the other hand, more isn't always better. Too much CBD increases the chances for side effects and significantly reduces its healing efficacy. It affects every person differently, so listen to your body and pay attention to how it responds to CBD.
Change doesn't happen overnight. For that reason, take the same dose for a couple of days before increasing it. Then, increase the dosage at minimal increments. Finally, be cautious about coming to conclusions before CBD has had a legitimate opportunity to take effect.
Third, manage your expectations.
For all the hype CBD has gotten recently, you might expect it to explode in your mouth like Pop Rocks candy. But sadly, it's not that much fun. In fact, after you swallow a couple of drops, nothing happens. Nothing feels different and nothing really is different. In other words, there's no defined moment in which you can feel it start to work.
Instead, you might wake up the next morning feeling refreshed after a good night of undisturbed sleep. Or maybe your aching body isn't so achy after a rigorous hike. Listen to your body carefully so that you can recognize how CBD oil affects you.
The Future of CBD
The future holds big change for CBD. Most importantly, the passage of the 2018 Farm Bill made way for researchers to learn more about how it works. Secondly, we expect developing regulations to define the practices of growing, processing, and distributing CBD. The growing market for it is poised to substantially increase by 2024.
BDS Analytics and Arcview Market Research says that "the collective market for CBD sales is expected to exceed $20 billion in the United States by 2024." Roy Bingham, BDS Analytics CEO, adds that the prediction includes all distribution channels. "We're witnessing CBD maturing from a cannabis sub-category into a full-blown industry of its own," he said.
Pharmaceutical companies across the globe are already filing patents on processes and treatments. Kenneth Morrow, at Cannabis Business Times says, "hopefully we will ultimately have a two-tier system, with corporate product for pharmaceuticals and boutique family farm products for everybody else. The consumer will decide what is best for them."
Whatever the future holds for CBD oil and other CBD products, it's likely to have the public interest for many years to come.
Pharmaceutical companies will probably formulate new medications containing CBD. It's even possible that researchers discover new medical uses for it. We've only just begun exploring the possibilities that CBD can offer. So, stay tuned in.
Go back to the top.
CBD in a Nutshell
Researchers made a discovery recently that changed the trajectory of cannabis forever. The endocannabinoid system can absorb cannabinoids that weren't made by the body. This discovery lead to a renewed global curiosity about how cannabinoids, specifically CBD, interact with the endocannabinoid system. Studies are still in their infancy, but early findings have been promising.
As a result, the CBD marketplace has exploded onto the health scene, with their producers touting a variety of health benefits. The passage of the 2018 Farm Bill in the U.S. has also helped. It made way for researchers to conduct meaningful studies into the validity of those claims.
In the meantime, consumers are scrambling to understand how CBD oil can help them. With so much to know about the growth and extraction process, as well as consumption options, confusion is inevitable.
For that reason, we've written this CBD guide with the beginning user in mind. The CBD industry is certainly at the dawn of its existence with a bright future ahead. We hope that this guide helps you sort through the basics before taking the plunge.
When you're ready, our user-friendly directory can help you find CBD oil near you. Best wishes for a healthier you!
Recent CBD Research and Studies
The objective of this study was to learn more about CBD treatment for pediatric epilepsy. It included 29 epileptic children between the ages of one and 18. Their dosages were steadily increased until the patients reached maximum tolerability or 25mg. The children were treated twice daily for at least six months.
Although researchers need to conduct more formal studies, they came to a promising conclusion.
"These data suggest that CBD may have beneficial effects in patients with [epilepsy] and an acceptable safety profile."
Pietrafusa N, et al.
Paediatr Drugs August 21, 2019
Complex movement disorders rob children of their quality of life. Currently, we have very few efficient treatment options for these disorders.
In this study, two groups of children between the ages of one and 17 were studied for five months. One group took CBD oil with 0.25 percent THC. The other group took CBD oil with 0.83 percent THC.
The study resulted in "significant improvement in spasticity and dystonia, sleep difficulties, pain severity, and [quality of life] was observed in the total study cohort, regardless of treatment assignment."
"With the use of CBD oil, the patient reported being less anxious, as well as settling into a regular pattern of sleep. He also indicated that he had not used any marijuana since starting the CBD oil."
Shannon S, et al.
Integr Med (Encinitas). 2015
Current pain management treatments aren't viable for many cancer patients. Therefore, researchers have been studying CBD as an alternative treatment since 1975.
This research reviews a collection of studies that took place between 1975 and 2014. Some of them include CBD oil that contained THC. The review found that "higher doses of THC were correlated with increased pain relief in some studies."
Overall, the review of these studies concluded that "there is evidence suggesting that medical cannabis reduces chronic or neuropathic pain in advanced cancer patients."
"there is evidence suggesting that medical cannabis reduces chronic or neuropathic pain in advanced cancer patients."
Blake A, et al.
Ann Palliat Med. 2017
While it may seem counterintuitive to turn to cannabis to overcome a cannabis addiction, it may be quite effective. That's likely because CBD neutralizes the effects of THC.
The subject of this study was a 27-year-old male with bipolar disorder and a "daily addiction to marijuana use." He began the study with a CBD dose of 24mg that gradually decreased to 18mg. Not only did he stop using marijuana, but he was able to maintain his cessation at 18mg.
"With the use of CBD oil, the patient reported being less anxious, as well as settling into a regular pattern of sleep. He also indicated that he had not used any marijuana since starting the CBD oil."
"significant improvement in spasticity and dystonia, sleep difficulties, pain severity, and [quality of life] was observed in the total study cohort, regardless of treatment assignment."
Libzon S, et al.
J Child Neurol. 2018
The objective of this study was to learn more about CBD treatment for autism. It included 188 autistic patients. During the two-year study, patients took CBD oil with 1.5 percent THC.
The study concluded that 90.2 percent of its participants experienced an improvement in their symptoms.
"90.2 percent experienced an improvement in their symptoms."
Bar-Lev Schleider, et al.
Sci Rep. January 17, 2019
About one in every 20,000-40,000 babies develop a rare but severe form of epilepsy called Dravet syndrome. Researchers theorized that a combination of CBD and THC oil can reduce the severe symptoms of the disease.
Researchers added a combination dosage of the oil to the patients' previously established treatments. The dosage ranged from two to 16mg of CBD and 0.04 to 0.32 of THC daily for 20 weeks.
The study concluded that the combination was safe and well tolerated in all subjects. In addition, the treatment "resulted in a reduction of seizure counts, spike index on EEG, and improved quality of life measures."
"Treatment resulted in a reduction of seizure counts, spike index on EEG, and improved quality of life"
McCoy B, et al.
Ann Clin Transl Neurol. 2018
Previous research indicates that a variety of neurological malfunctions may be due to a mild traumatic brain injury. So far, no research studies have revealed any effective treatments for these symptoms.
In this study, researchers gave CBD to a mouse with a mild traumatic brain injury. Their aim was to learn more about the effects of CBD oil on these malfunctions. As a result, they found that "CBD oral treatment restored the behavioral alterations and partially normalized the cortical biochemical changes."
Researchers concluded that the study shows promise for CBD treatment. 
"suggest CBD as a pharmacological tool to improve neurological dysfunctions caused by the trauma."
Belardo, C et al.
Front Pharmacol. April 16, 2019
Dogs have endocannabinoid systems, too. Therefore, theories suggest that CBD oil may have a positive impact on our furry sidekicks, as well. For that reason, studies that seek to understand CBD treatments in dogs are ongoing.
This study focuses on dogs with osteoarthritis in particular. Researchers gave dogs two milligrams of CBD or a placebo every 12 hours for four weeks. The results revealed decreased pain in the dogs that took CBD.
The researchers noted no side effects at the end of the study. They concluded, "This clinical study suggests that two milligrams of CBD twice daily can help increase comfort and activity in dogs with osteoarthritis."
"This clinical study suggests that two milligrams of CBD twice daily can help increase comfort and activity in dogs with osteoarthritis."
Gamble LJ, et al.
DesignFront Vet Sci. 2018er
Note: None of the studies in this CBD guide observed considerable side effects.
Go back to the top.
Sources
[1] Bar-Lev Schleider, Lihi, et al. "Real Life Experience of Medical Cannabis Treatment in Autism: Analysis of Safety and Efficacy." Scientific Reports, Nature Publishing Group UK, 17 Jan. 2019, www.ncbi.nlm.nih.gov/pubmed/30655581/?i=23&from=cbd%2Boil.
[2] Belardo, Carmela, et al. "Oral Cannabidiol Prevents Allodynia and Neurological Dysfunctions in a Mouse Model of Mild Traumatic Brain Injury." Frontiers in Pharmacology, Frontiers Media S.A., 16 Apr. 2019, www.ncbi.nlm.nih.gov/pubmed/31040777/?i=13&from=cbd%2Boil.
[3] Bergamaschi, Mateus M, et al. "Cannabidiol Reduces the Anxiety Induced by Simulated Public Speaking in Treatment-Naïve Social Phobia Patients." Nature News, Nature Publishing Group, 9 Feb. 2011, www.nature.com/articles/npp20116.
[4] Blake, Alexia, et al. "A Selective Review of Medical Cannabis in Cancer Pain Management." Annals of Palliative Medicine, U.S. National Library of Medicine, Dec. 2017, www.ncbi.nlm.nih.gov/pubmed/28866904/?i=48&from=cbd%2Boil.
[5] Darkovska-Serafimovska, Marija, et al. "Pharmacotherapeutic Considerations for Use of Cannabinoids to Relieve Pain in Patients with Malignant Diseases." Journal of Pain Research, Dove Medical Press, 23 Apr. 2018, www.ncbi.nlm.nih.gov/pmc/articles/PMC5922297/.
[6] Gallily, Ruth, et al. "Overcoming the Bell-Shaped Dose-Response of Cannabidiol by Using Cannabis Extract Enriched in Cannabidiol." Research Gate, Jan. 2015, www.researchgate.net/publication/273352080_Overcoming_the_Bell-Shaped_Dose-Response_of_Cannabidiol_by_Using_Cannabis_Extract_Enriched_in_Cannabidiol.
[7] Gamble, Lauri-Jo, et al. "Pharmacokinetics, Safety, and Clinical Efficacy of Cannabidiol Treatment in Osteoarthritic Dogs." Frontiers in Veterinary Science, Frontiers Media S.A., 23 July 2018, www.ncbi.nlm.nih.gov/pubmed/30083539/?i=30&from=cbd%2Boil.
[8] Gill, Lisa L. How to Shop for CBD." Consumer Reports, 27 Sept. 2018, www.consumerreports.org/cbd/how-to-shop-for-cbd/.
[9] Hammell, D.C., et al. "Transdermal Cannabidiol Reduces Inflammation and Pain‐Related Behaviours in a Rat Model of Arthritis." Wiley Online Library, John Wiley & Sons, Ltd, 30 Oct. 2015, onlinelibrary.wiley.com/doi/10.1002/ejp.818.
[10] Jadoon, Khalid A., et al. "A Single Dose of Cannabidiol Reduces Blood Pressure in Healthy Volunteers in a Randomized Crossover Study." JCI Insight, American Society for Clinical Investigation, 15 June 2017, insight.jci.org/articles/view/93760.
[11] Kubala, Jillian. "7 Benefits and Uses of CBD Oil (Plus Side Effects)." Healthline, 26 Feb. 2018, www.healthline.com/nutrition/cbd-oil-benefits.
[12] Kyle, Emily. "The Ultimate Guide to Vaping CBD – Safety, Uses & Where to Buy." Emily Kyle Nutrition, 9 Oct. 2019, emilykylenutrition.com/ultimate-guide-to-cbd-vape-oil/.
[13] Lassalle, Janelle. "How to Take CBD." Healthline, 1 Aug. 2019, www.healthline.com/health/how-to-take-cbd.
[14] Libzon, Stephanie, et al. "Medical Cannabis for Pediatric Moderate to Severe Complex Motor Disorders." Journal of Child Neurology, U.S. National Library of Medicine, Aug. 2018, www.ncbi.nlm.nih.gov/pubmed/29766748/?i=36&from=cbd%2Boil.
[15] McCoy, Bláthnaid, et al. "A Prospective Open-Label Trial of a CBD/THC Cannabis Oil in Dravet Syndrome." Annals of Clinical and Translational Neurology, John Wiley and Sons, Inc., 1 Aug. 2018, www.ncbi.nlm.nih.gov/pubmed/30250864/?i=29&from=cbd%2Boil.
[16] Morrow, Kenneth. "The CBD Big Picture (and We Mean Big)." Cannabis Business Times, Cannabis Business Times, 6 June 2016, www.cannabisbusinesstimes.com/article/the-cbd-big-picture–and-we-mean-big/.
[17] Morski, Lynn Marie. "The Complete Guide to CBD Extractions (CO2 Cannabis Extraction, Olive Oil and Solvents)." MarijuanaBreak, 28 Aug. 2019, www.marijuanabreak.com/cbd-cannabis-extraction.
[18] Pietrafusa, Nicola, et al. "Purified Cannabidiol for Treatment of Refractory Epilepsies in Pediatric Patients with Developmental and Epileptic Encephalopathy." Paediatric Drugs, U.S. National Library of Medicine, Aug. 2019, www.ncbi.nlm.nih.gov/pubmed/31179531/?i=9&from=cbd%2Boil.
[19] Shannon, Scott, and Janet Opila-Lehman. "Cannabidiol Oil for Decreasing Addictive Use of Marijuana: A Case Report." Integrative Medicine (Encinitas, Calif.), InnoVision Professional Media, Dec. 2015, www.ncbi.nlm.nih.gov/pubmed/26807069/?i=54&from=cbd%2Boil.
[20] Turner, Sylvie. "5 Ways to Consume CBD." Pain, 29 Nov. 2018, www.pain-health.com/blog/5-ways-consume-cbd.
[21] "U.S. CBD Market Anticipated to Reach $20 Billion in Sales by 2024." BDS Analytics, 9 May 2019, bdsanalytics.com/u-s-cbd-market-anticipated-to-reach-20-billion-in-sales-by-2024/.
[22] UW Alcohol and Drug Abuse Institute. "Cannabinoids." Learn About Marijuana: Factsheets: Cannabinoids, June 2013, adai.uw.edu/marijuana/factsheets/cannabinoids.htm.
[23] "What Is CBD?" What Is CBD? Definition of Cannabidiol & CBD Oil, 2019, www.projectcbd.org/cbd-101/what-is-cbd.
[24] Yauck, Jeff. "What Is Full Spectrum CBD Oil? [Complete Guide]." MarijuanaBreak, 20 Aug. 2019, www.marijuanabreak.com/full-spectrum-cbd-oil.